If You Don't Have Anything Nice to Say . . .
Written by Meghan Daum | 14 May 2010

I'll post it here! (warning, explicit language)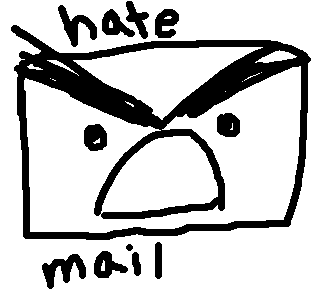 Back before my house was "staged" by my realtors into a clutter-free showplace, my refrigerator was frequently covered with hate mail from readers. Many of the letters come from L.A. Times readers, though it's not just the column that can elicit massive scale umbrage from people whose angry missives are often longer than whatever I wrote in the first place. Granted, sometimes my columns are weak or even downright sucky and I deserve a little ribbing. But often people seem not even to have read them or bothered to think about I was talking about. One time I went on Bill O'Reilly talking about this column and before the segment even ended, I had hundreds of emails in my inbox telling me what a "stupid [unprintable adjective, unprintable noun] feminazi, whore, fill in the blank . . . [unprintable, unprintable]" I was. On the other hand, I did get a handful of nice letters, including one from a guy with a llama ranch who wanted to marry me so we could raise llamas together.
Below is a sampling of comments -- good and bad -- that have come in over the last few days (and a few faves from the past.) Many are in response to my recent appearance on The Adam Carolla podcast, which I am totally thrilled about, as Adam is a major intellectual hero of mine and, as I discussed in this column, I've been a longtime superfan (if you only know him from The Man Show you don't really know him.) But some are L.A. Times comment board posts, random tweets, etc. Someone even angrily posted a comment on a thread on this site, which is a breath of fresh air amid all the gushing praise. (Also the poster seemed to think I was rich, which sadly I am not, though maybe though this "visualization" I can "manifest.")
Here goes:
"holy shit was Meghan Daum annoying. I'd rather hear your thoughts on Boots the Monkey than her condescending voice." -- @apelikecreature on Twitter
"Something about her just bugged the shit out of me. I think it's these uppity authors. Shut the fuck up and quit kissing his ass lady!" -- JonFisher on Adam Carolla podcast message board
"This woman has high intellect and is supremely evolved as a human being. One of the best guests you've had thus far. By the way whats up with her eyes? Is she reptilian or something?" -- Live Long on Adam Carolla podcast message board
"Wow. If you had guests as good as this on all the time, I would get nothing else done, I would just listen to the Adam Carolla podcast non-stop. I mean, I would still eat. And shit. And shower. And jerk off. But you know what I mean." -- EZ Mother Fuckin' E on Adam Carolla podcast message board
"Actually, I'm just amazed someone married into the Narcissistic Personality Disorder." -- "nemough" on the L.A. Times comment board, referring to this column.
"Meg, this is the narcissistic personality disorder talking, again." -- "nemough" on the L.A. Times comment board, referring to this column.
"How stupid are you? Or have you just overdosed on hair dye and Paxil, like your hero, Maureen Dowd? Obama will never be President. Enjoy your irrelevance in November." -- L.A. Times letter writer responding to this column
Add Comment